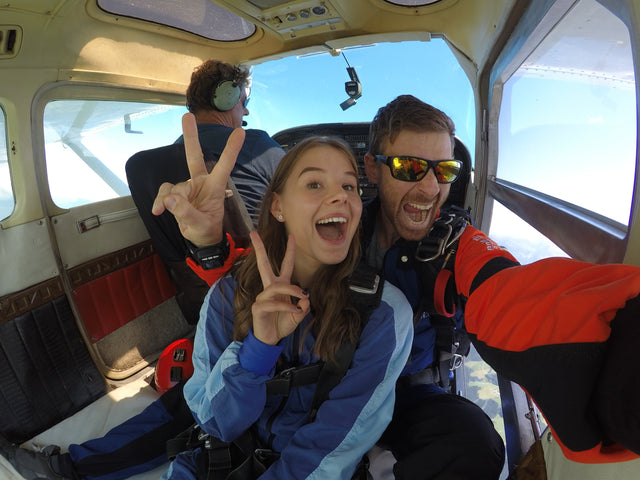 Tandem Skydiving in South Tyrol
South Tyrol skydiving with alpine sightseeing flight
Tandem skydiving for the flight-enthusiastic South Tyroleans. Years ago, the country town of Bolzano in the northern Italian province of South Tyrol was an "Eldorado" for skydiving. Unfortunately, that is over in South Tyrol today. That's why more and more South Tyroleans from Bolzano, Merano, Trento or Vipiteno have visited us for tandem skydiving here in St. Johann Tyrol in Austria in the last few years. The tandem skydiving airfield is located directly on the outskirts of the market town of St. Johann and can be reached in about 2 hours by car from the South Tyrolean capital of Bolzano via Innsbruck. In St. Johann Tyrol, tandem parachute jumps from airplanes and helicopters are offered daily throughout the year, summer and winter. This is the last tandem jump site in Tyrol that is open all year round. That's why you can easily get a tandem jump appointment at short notice. The alpine panorama is also breathtaking as we are stationed in the middle of the Kitzbühel Alps.
Skydiving as a South Tyrolean tandem passenger, you are right here and it is absolutely worth the journey.
| Tandem | Prices |
| --- | --- |
| Tandem (Flyer) | 289,-€ |
| Tandem (Flyer) with photos | 359,-€ |
| Tandem (Flyer) with video | 399,-€ |
| Tandem (Flyer) with video and photo package | 419,-€ |
| Tandem(HELICOPTER) including video and photo package | 480,-€ |
Gewichtszuschlag ab 90 kg bei allen Variationen von 50,-€ vor Ort !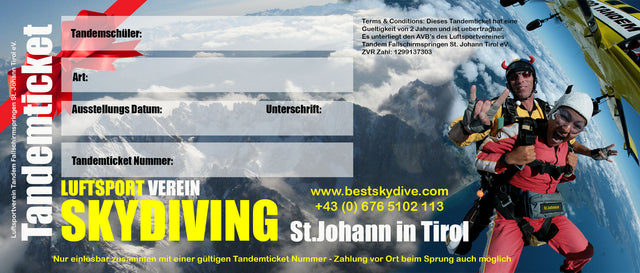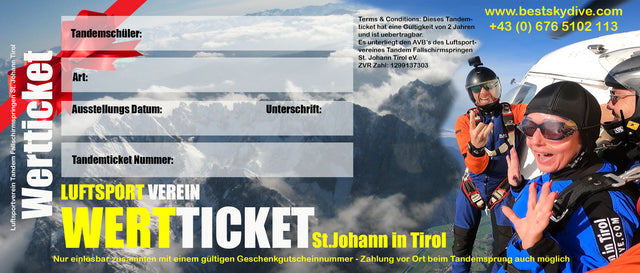 In addition to our experiences, there are also value tickets. These value tickets can be redeemed for ALL experiences (solo skydiving, tandem jumping, video/photo). They are available in 5 versions: 50.-€,100.-€, 150.-€, 200.-€ and 300.-€. You can also combine them. We can also send you value tickets as a gift by mail in glossy format with payment slip.