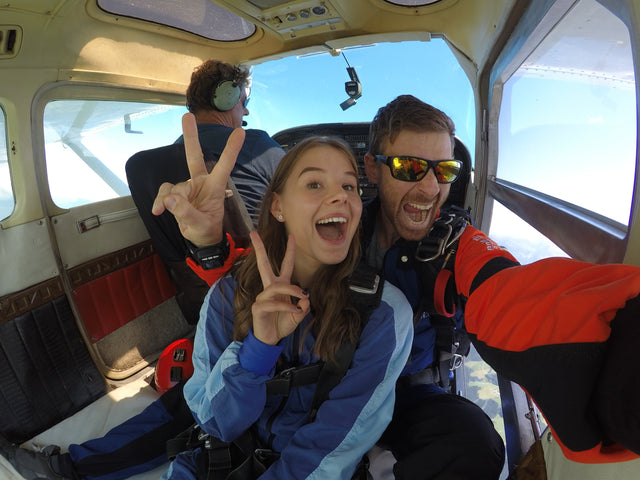 Tandem jumping in Munich area
Tandem parachute jumping is no longer possible in the Bavarian capital Munich and in the direct area of Munich. Munich is closed for regulated skydiving. Munich's Franz Josef Strauß Airport claims the required airspace and leaves no more room for tandem skydiving. Therefore some Bavarian dropzones in the Munich area have stopped or relocated their regular skydiving operations. Nevertheless, the Bavarian metropolis and capital Munich has a great need for tandem skydiving opportunities for its Munich sport friends.
Munich, what to do? We have the solution for you as a Munich resident for your BEST tandem jump of your life! Only 1 hour south of Munich is St. Johann in Tirol. This tandem skydive site is perfect for Munich residents and easy to reach via the Inntal motorway coming from Munich! Therefore we may count our skydiving airfield here in the Bavarian - Tyrolean border area, to the greater Munich area. The alpine panorama could not be better for a skydive or a sightseeing flight with 3.500m above the Kitzbühel Alps. On nice days you can see as far as the outskirts of Munich. Climbing flight is with us alpine round flight!!! We are very happy about guests from the Bavarian capital Munich and surroundings. Treat yourself to a trip to the mountains, take your loved ones with you and enjoy a few hours of tandem jump action with us in St. Johann Tirol.
YOU CAN ALSO BOOK AN APPOINTMENT HERE WITHOUT A VOUCHER
| Tandem | Prices |
| --- | --- |
| Tandem (Flyer) | 289,-€ |
| Tandem (Flyer) with photos | 359,-€ |
| Tandem (Flyer) with video | 399,-€ |
| Tandem (Flyer) with video and photo package | 419,-€ |
| Tandem(HELICOPTER) including video and photo package | 480,-€ |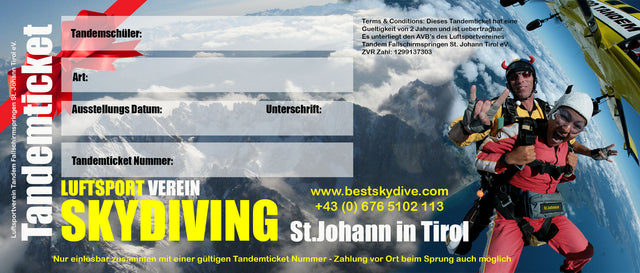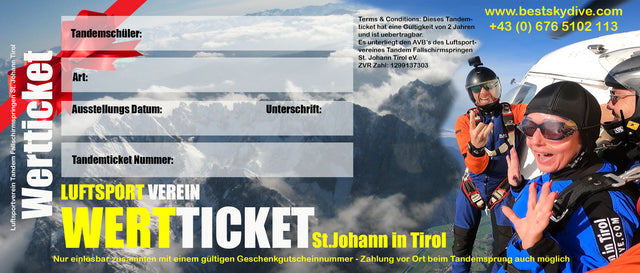 In addition to our experiences, there are also value tickets. These value tickets can be redeemed for ALL experiences (solo skydiving, tandem jumping, video/photo). They are available in 5 versions: 50.-€,100.-€, 150.-€, 200.-€ and 300.-€. You can also combine them. We can also send you value tickets as a gift by mail in glossy format with payment slip.
Two professionals step on the gas! Freddy and Vitali Klitschko, together 12 tandem skydives. Vitali has meanwhile made his skydiving license.

- Vitali Klitschko -