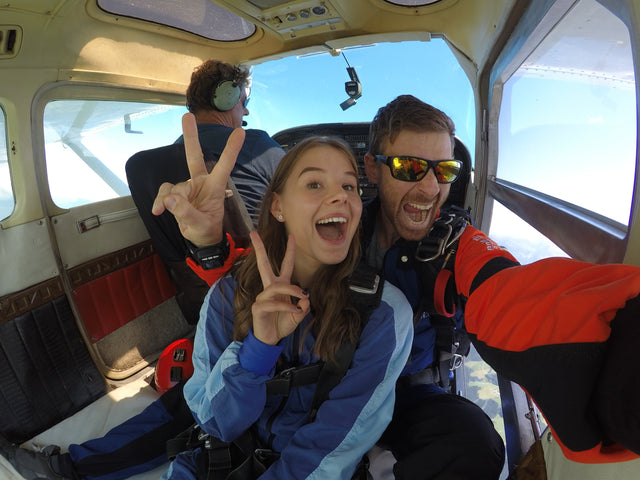 Tandem Skydiving in Salzburg area
Many years ago, skydiving and tandem jumping were regularly offered in the Mozart city of Salzburg. Until a few years ago, Salzburg's two skydiving clubs were able to offer parachute jumping and tandem jumping to guests from their planes in the provincial capital and the surrounding area of Salzburg without any problems. In the meantime, this has been so severely restricted by the state of Salzburg that it has made it impossible for the resident skydiving clubs to continue practicing their air sports there. Since then the tandem jump guests from Salzburg have to go somewhere else.
Where should the Salzburg skydiving friends and tandem passengers go? We have the best solution for all tandem jump fans from the provincial capital Salzburg! Only 1 hour southwest of Salzburg, in the Kitzbühel Alps, lies the market town of St. Johann in Tirol with its 10,000 inhabitants. Easy to reach via motorway or highway from Salzburg via Lofer or Saalfelden.
In St. Johann Tirol there is tandem skydiving DAILY, summer and winter. That's why BESTSKYDIVE can make appointments at short notice. Just give us a call, we are looking forward to all Salzburgers ...
YOU CAN ALSO BOOK AN APPOINTMENT HERE WITHOUT A VOUCHER
| Tandem | Prices |
| --- | --- |
| Tandem (Flyer) | 289,-€ |
| Tandem (Flyer) with photos | 359,-€ |
| Tandem (Flyer) with video | 399,-€ |
| Tandem (Flyer) with video and photo package | 419,-€ |
| Tandem(HELICOPTER) including video and photo package | 480,-€ |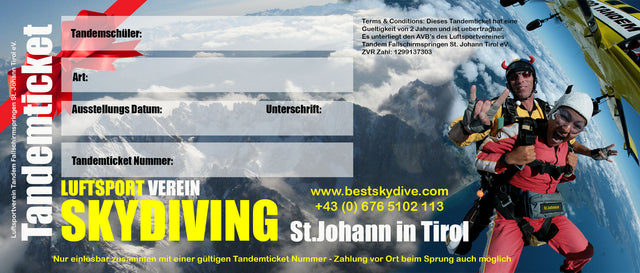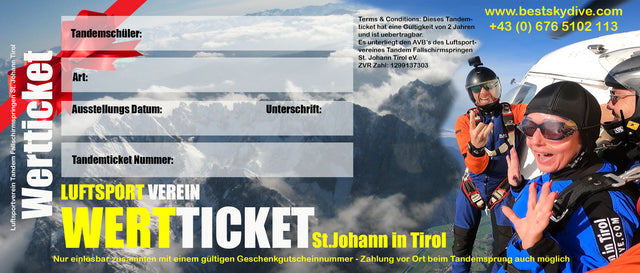 In addition to our experiences, there are also value tickets. These value tickets can be redeemed for ALL experiences (solo skydiving, tandem jumping, video/photo). They are available in 5 versions: 50.-€,100.-€, 150.-€, 200.-€ and 300.-€. You can also combine them. We can also send you value tickets as a gift by mail in glossy format with payment slip.
Two professionals step on the gas! Freddy and Vitali Klitschko, together 12 tandem skydives. Vitali has meanwhile made his skydiving license.

- Vitali Klitschko -