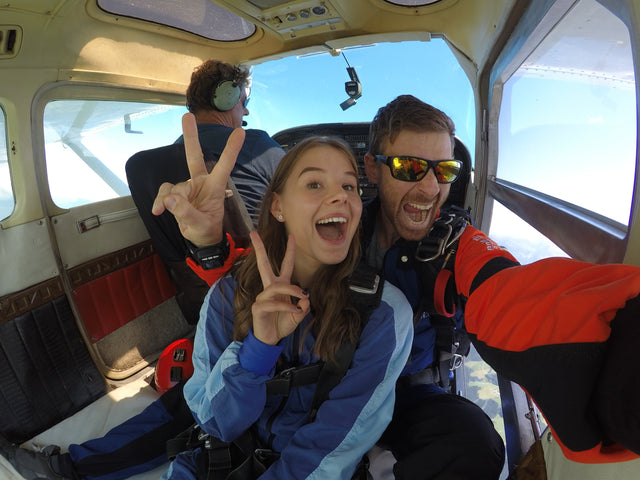 Tandem jumping in Bavaria
Bavaria Skydiving Tandem Jump
Bayerntandem
Tandem Skydiving for air sports enthusiasts in Bavaria. There are several skydiving spots in Upper Bavaria, Lower Bavaria and in Franconia. However, by far the most beautiful tandem jump site is in the south, in the border area of Bavaria on the Tyrolean side. There, in the district of Kitzbühel, lies the market town of St. Johann with its 10,000 inhabitants. The town is about an hour's drive from the Bavarian capital Munich.
In St. Johann Tirol, tandem parachute jumps from airplanes and helicopters are offered DAILY throughout the year. Also the breathtaking alpine panorama is incomparably better than at any other Bavarian jump site, because we are stationed in the middle of the Kitzbühel Alps at the gates to Bavaria at the Wilder Kaiser Mountains. The fact that our airfield is very easy to find via the motorway from Rosenheim, or via the country road from Traunstein over the Bavarian border crossing in Reit im Winkl, is worth every kilometre of the journey. What does "Bavarian skydiving" mean to you as a tandem passenger?
As a summary, you can say that skydiving "Bavaria Experience" in St. Johann offers the best. Your whole family and friends are also welcome and invited to spend an unforgettable day with you and us here in the borderland of Bavaria / Tyrol. Experience with us your adrenalin kick over the Bavarian, Tyrolean Alps.
Parachute tandem jump in Bavaria / Tyrol: the most frequently asked questions and answers can be found here or just send us an inquiry, we are happy to help you.
| Tandem | Prices |
| --- | --- |
| Tandem (Flyer) | 289,-€ |
| Tandem (Flyer) with photos | 359,-€ |
| Tandem (Flyer) with video | 399,-€ |
| Tandem (Flyer) with video and photo package | 419,-€ |
| Tandem(HELICOPTER) including video and photo package | 480,-€ |
Gewichtszuschlag ab 90 kg bei allen Variationen von 50,-€ vor Ort !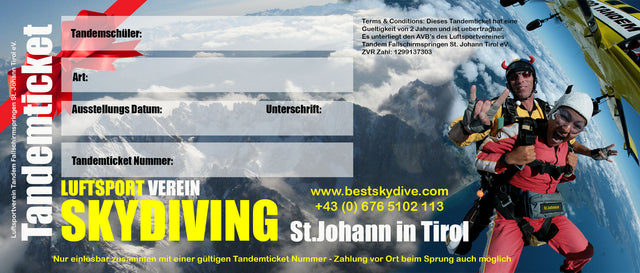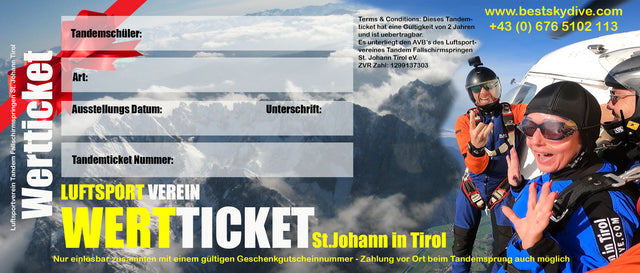 In addition to our experiences, there are also value tickets. These value tickets can be redeemed for ALL experiences (solo skydiving, tandem jumping, video/photo). They are available in 5 versions: 50.-€,100.-€, 150.-€, 200.-€ and 300.-€. You can also combine them. We can also send you value tickets as a gift by mail in glossy format with payment slip.